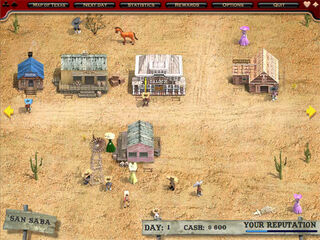 San Saba is the first town that you start in. It is availible in the free trail and the full version. It consists of 5 buildings which one of is your home.
The saloon in San Saba is called Bob's Saloon. The table is red with stars containing the writing.
Population
Edit
The population consists of:
Tony Bannon- Black Circled Hat with red band
Charlene Jones- Black and White Flower hat
Ron (San Saba) Dixie- Black hat teeth string
Fred Scott- Brown hat purple suit
Quinn "B" Williams-Grey hat Green Jacket

Angelina Hoover- Yellow and orange flower hat
Tom Tyler Boots- Round hat pink jacket
Francis Hayes-Pink hat
San Saba is the only town available in the free trial
If you play as a male, all properties are owned by men.
There are five men and three women
The Saloon is called Bob's Saloon but there is no Bob in San Saba.