The Governor of Poker-series
Edit
This poker game series from Youda adds a lot of fun to the original game of poker because you can materialize your prize money by buying houses and even entire cities. The visuals make the game also less dull to look at and therefore more accessible for a broader public. As we speak, there are 3 games in the series.
Governor of Poker
Edit
Being the first of the GOP-series, this game turned out to be a huge success. You start in San Saba, where poker has been banned by the governor of Texas. Your mission is to become the new Mayor of Texas and to do so, you'll have to poker your way through Texas in order to own every house and city.
Governor of Poker 2
Edit
This is the latest single-player version of the game and comes in three versions; GOP2, GOP2 Premium Edition and GOP2 for your mobile device. Like the first part of the game, poker has been banned by the governor of Texas. This time you'll start in El Paso. Your main goal stays the same, but there are a lot of new features added to the game, such as buying boats and mines. Of course the graphics look a lot better than in the previous game, too.
Governor of Poker Texas Tycoon
Edit
This is the version you can play on Facebook. Ingame, nothing much has changed. The overview, however, has. The most important update and aspect of this version is the multiplayer-part. You can play against your Facebook-friends or just random people from all over the world. Read the
main article
for more info.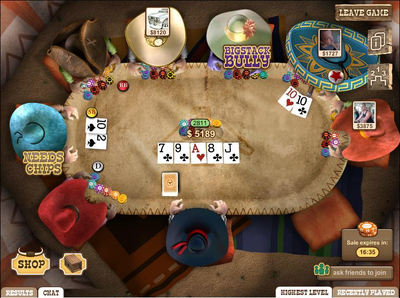 Community content is available under
CC-BY-SA
unless otherwise noted.